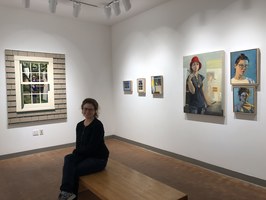 Amanda is a painter at Western Avenue Studios in Lowell, MA. She earned a BA in Studio Art from Smith College, a Post Baccalaureate Certificate in painting from Brandeis University and an MFA from Massachusetts College of Art and Design.
Her professional memberships include the National Association of Women Artists (juried induction) and the Western Avenue Artists Association. She has been a lending artist at the DeCordova Museum and Sculpture Park in Lincoln, MA since 2011.
Amanda moved to Sydney, Australia, in 2012. While there, she taught courses to adults and children at ArtEst Art School. She was included in several art exhibitions and was a finalist in major national prizes: the inaugural $50,000 Benalla Nude Art Prize at the Benalla Art Gallery, VIC (2014) and the $40,000 Percival Portrait Prize at the Perc Tucker Regional Gallery, QLD (2016).
Since returning to the US, Amanda has been awarded painting residencies at PLAYA (Oct 2017), the Hambidge Center for the Creative Arts and Sciences (July 2018) and a forthcoming residency at
Monson Arts (March 2019).
She had her solo show, "Vantage Points" at the Oresman Gallery at Smith College in October 2018 and was a visiting artist at the college in November.
Two of Amanda's paintings will be included in the Juried Winter Exhibition at Blue Mountain Gallery in NY, NY (Jan 2019).
To download a detailed resume, please click
here
.